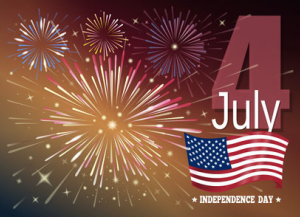 On July 2, 1776, the Second Continental Congress (which was made up of delegates of the 13 original colonies) passed a resolution to become independent from the rule of King George III and Great Britain.  Apparently feeling a need to explain why Congress voted for independence, Congress debated the contents of a document for two days following the July 2 vote.  The document was drafted  by the Committee of Five (John Adams, Thomas Jefferson, Benjamin Franklin, Roger Sherman and Robert Livingston.)  On July 4, 1776, Congress approved the wording of the document.  That document, dated July 4, 1776,  was titled "The Unanimous Declaration of the Thirteen United States of America. "  We now know it as the Declaration of Independence.
The part of America's Declaration of Independence that is universally recognized is its second sentence: "We hold these truths to be self-evident, that all men are created equal, that they are endowed by their Creator with certain unalienable Rights, that among these are Life, Liberty and the pursuit of Happiness."
A little over a year before the July 4, 1776, Declaration of Independence was passed, war had broken out between the 13 colonies and Great Britain. On April 19, 1775, the battles of Lexington and Concord were fought.  (Most school children recall the midnight ride of Paul Revere.  Paul Revere was a silversmith and a Patriot of the American Revolution. He rode on his horse the night before the battles to warn colonists of the coming of the "Red Coats.")  In the spring of 1775, most American colonists did not want a complete separation from Great Britain.  But as the war wore on the summer of 1776 brought a new impetus for a total and complete separation.  On July 3, 1776, one day before the Declaration of Independence was passed, General William Howe, landed his British troops on Staten Island.  The landing had not been contested by America's army, the Continental Army, led by General George Washington.  The loss of Staten Island was overcome by American victories at Trenton and Princeton.   Eventually, France entered the war on the side of America.  France's war effort proved decisive.
Seven years after the Declaration of Independence was adopted and eight years after the Revolutionary war began, peace came on September 3, 1783.  On September 3, 1783, the Treaty of Paris was signed.  In the Treaty of Paris, known as the Peace of Paris, Great Britain formally recognized America's independence.
This year marks America's 241st birthday.  We are the greatest country on the planet, and we are stronger than ever!  Happy Birthday, America!