Effective June 7, 2011, the listings in the endocrine body systems, (Listings 9.02 through 9.08) dealing with diabetes mellitus and thyroid disorders will be deleted. As a consequence, those diseases will no longer be considered a reason to award disability based upon the fact that a claimant may have diabetes mellitus or a thyroid disorder. Several advocacy groups, including the American Diabetes Association opposed the changes.
SSA basically said that due to medical science significant advances in detecting diabetes mellitus and thyroid disorders at earlier stages and newer treatments have resulted in better management. As a result, SSA concluded that "most" diabetes mellitus conditions and thyroid disorders do not reach listing level. Even if they do reach listing level the severity does not remain for the required 12 month period.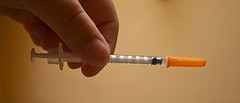 Now diabetes mellitus and thyroid disorders will be considered under other listings such as blindness, renal failure and amputations. These disease will also be considered in the determining the claimant's residual functional capacity. Also these diseases
For those disabled currently receiving disability benefits based on diabetes mellitus or thyroid disorder, those benefits will not be stopped. To the extent that there is an evaluation for medical improvement, those reviews will be under the listing which existed at the time benefits were awarded.