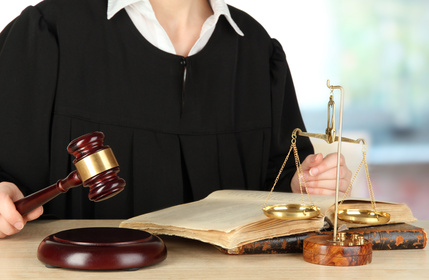 Does a Federal District Court have jurisdiction to review a decision of an Administrative Law Judge's (ALJ) failure to find "good cause" and thereby allow a late filing for a request for hearing? The answer is generally no. 20 C.F.R. § 404.911 requires that a claimant who files late must show that he/she had "good cause" for missing the filing deadline. Good cause may include such matters as the claimant being seriously ill and therefore not have the ability to contact SSA himself or through a friend or relative; death or serious injury in the claimant's immediate family; important records destroyed by fire or other accidental cause; could not find the information to support your claim within the time required despite trying very hard; the claimant was given incorrect information about when and how to request a hearing; unusual or unavoidable circumstances that showed the claimant could not have known of the need to timely file or which prevented him from timely filing. These are only a few examples.
If good cause is found, then the claim for disability benefits can proceed as normal. However, if "good cause" is not found, then the claim will be dismissed. If the claim is not found the claim will be dismissed. Even if the local SSA office finds that "good cause" exists, an ALJ may override that decision and decide that good cause was not shown and dismiss the claim.
If the claim is dismissed by the ALJ, the claimant may appeal that decision to the Appeals Council. If the Appeals Council decides that the ALJ did not error in dismissing the case, generally the case ends at that point. The Federal District Court, which had the legal authority to review a decision of the Commissioner regarding disability benefits, may only review those cases after there has been an evidentiary hearing on the merits of the claim. Watters v. Sec. of Health and Human Servs., 656 F.2d 234, 236 (7th Cir.1980) (emphasis added); see also Johnson v. Sullivan, 936 F.2d 974, 975 (7th Cir.1991) (emphasis added) (quoting Califano V. Sanders, 430 U.S. 99, 97 S.Ct. 980, 51 L.Ed.2d 192 (1977)).
Consequently, case law has been developed which suggests that a Federal Court does not have the jurisdiction to review SSA's determination not to extend the period for appeal is not subject to judicial review under § 405(g).
That said there are other legal theories that could be employed to legally invoke a Federal District Court's jurisdiction to review a case in which an ALJ determined that good cause was not shown. These theories include a due process argument and an argument under theory of mandamus. These theories, while potentially viable are predicated upon a very unique set of facts.