Arthritis is a common and debilitating disease that affects the joints of our body. Sufferers of arthritis often have difficulty completing many physical tasks, such as sitting, lifting, walking, grabbing, pushing, pulling, and even standing for extended periods of time. In many cases, arthritis becomes so severe that someone may not be able to complete the necessary functions of their job.
For this exact reason, arthritis is among the many diseases and disorders that can qualify an individual for social security disability benefits. However, the federal government requires that the arthritis significantly affect an individual and their ability to work before they are eligible for benefits. To be eligible for benefits for arthritis, an individual must fit into one of several categories.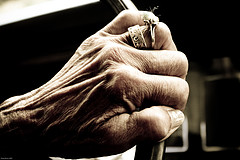 Qualifying for Benefits Based on Back Problems Due to Arthritis
An osteo-arthritis sufferer may be eligible for benefits if they can show one of the following back-related issues:
– Inflammation of the arachnoid membrane
– Narrowing of the spinal canal
– Compression of the spinal nerve root
Qualifying for Benefits Based on Joint Dysfunction Due to Arthritis
In some cases where an arthritis sufferer does not have a spinal disorder, they can still qualify for disability benefits based on sever joint dysfunction. To qualify under this category, there must be an obvious deformity in the joint due to osteo-arthritis, and it must be medically documented (with an MRI or a similar imaging procedure). An applicant must also show that there is a history of joint pain and an accompanying loss of motion. Generally, to qualify, the joint must be in the hip, knee, ankle, shoulder, elbow, wrist, or both hands.
Qualifying for Benefits if Neither of the Above Are Satisfied
If an applicant cannot show that they fit into either of the above categories, they still may be able to qualify for benefits based on a reduced "residual functional capacity." This is basically a catch-all for those who do not fit into one of the above categories, but still have debilitating arthritis. In these cases, an applicant can show that he cannot perform the required functions of a job by indicating that he is unable to stand or walk long enough to complete even a sedentary job.
Are You Suffering from Osteo-Arthritis?
If you are suffering from osteo-arthritis and have noticed that it has become increasingly difficult to work, or have had to leave your job because of these difficulties, you may be entitled to disability benefits. To find out if you are entitled to these benefits the best thing to do is to contact an experienced disability attorney who can escort you through the often complex and time-consuming process. Click here to contact an experienced Indiana disability attorney who can discuss the facts of your case and help you determine your best course of action.
Photo Credit: _Ricky via Compfight cc
See Related Blog Posts:
Availability of Disability Benefits for Mental Health Concerns